Sacred Geometry Retreats to Resume Post-Pandemic
Our sacred geometry retreats are memorable experiences! There is NO BETTER WAY to experience sacred geometry than in our residential retreats.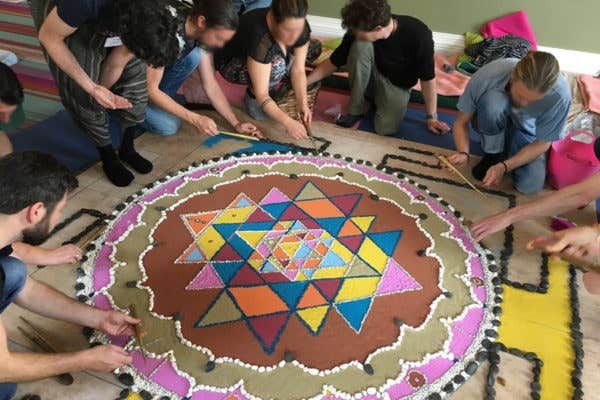 Group mandala in the process of being created at one of our past retreats in Ireland
Participants
loved the experience!
It's difficult to put into words how deeply transformative and empowering it is to do a workshop with Scott and Geoff. Together they strike a beautiful balance at profound information with experiential practice. Coming together with like minds at one of their events is an experience that will deeply move you and bring a resounding faith and trust in humanity. Everyone expressed a strong sense of gratitude and joy during their journey here. Cannot recommend this highly enough!
Lewis Murphy
If you find yourself attracted to the insights and messages you get from watching Scott Onstott's 'Secrets in Plain Sight' and reading his wonderful books and other writings — go to his workshop. Most likely, like me and others who attended his Sacred Geometry Workshop in Ireland, you will find your experience will be profound in ways that transcend the talk of geometry. Scott himself is an inspiration beyond description, and you will likely find yourself in the midst of people who seem to be your real family instead of strangers who have just met. Go!
Beverly Spicer
What a fantastic workshop experience. The emphasis on concentration, contemplation and meditation gave a great structural framework in which to explore the incredible shared insight of the group, and I would highly recommend it to anyone who has an interest in geometry and the powerful effect it has on consciousness. Geoff is a brilliant facilitator, and I am sure in the distant future Scott will be considered as one of the great minds of our age. Maybe that time will be sooner than we think.
Harry Webley
We understand that not everyone can afford not only the workshop cost, but also the time & funds needed for potential international travel.

The pandemic has taught everyone that we can meet online and the experience mediated by our screens can be amazing—and different.

That is why we also offer live online workshops, pre-recorded courses, in-person residential retreats, a variety of Scott's sacred geometry products, plus Geoff's amazing weekly Headcleaner© live audio/visual meditative experiences.
Past Retreats
Transpersonal Institute in County Meath, Ireland
A beautiful 45-minute drive from the Dublin International Airport, the Transpersonal Institute is a fully restored Georgian residence with room for 33 guests, nestled in 24 acres of wooded parkland.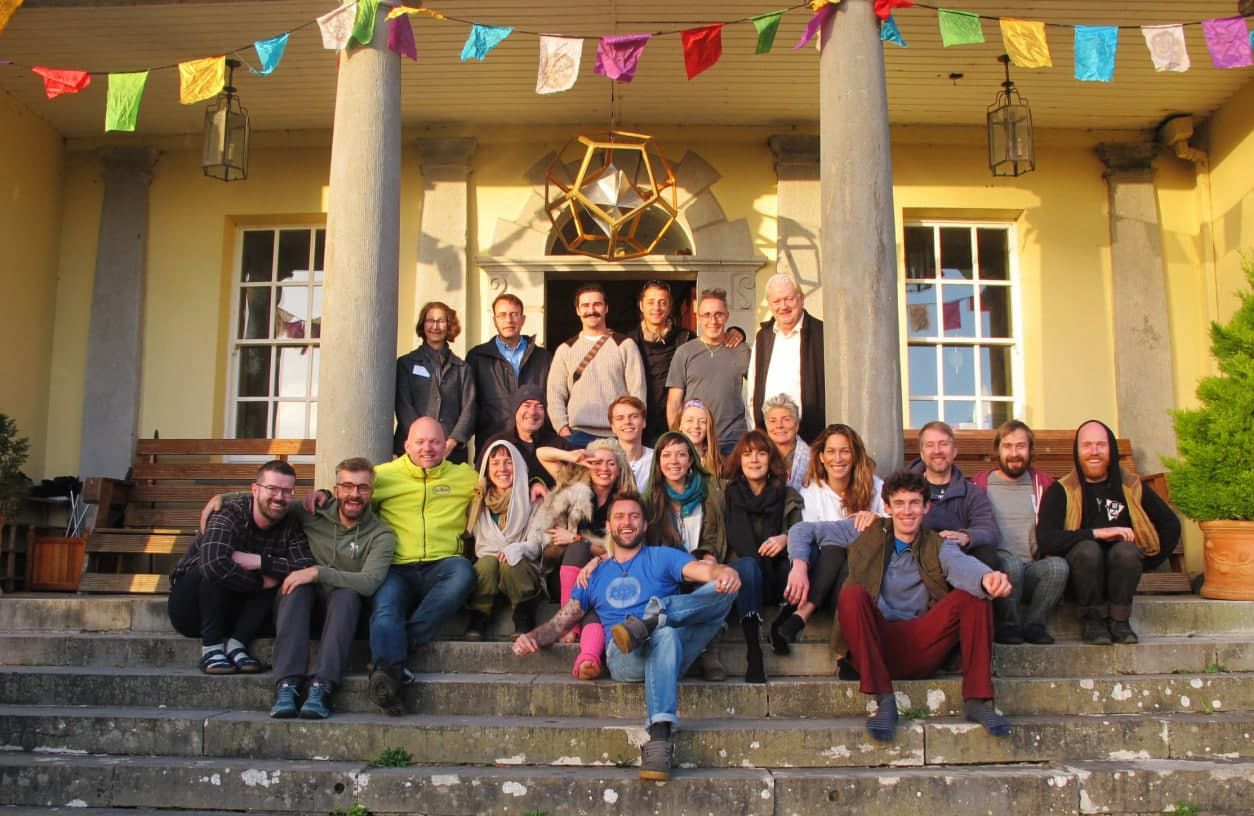 Access extraordinary states of mind simply by drawing with pencil, straightedge & compass and adorning what you've drawn with natural materials.
Move beyond talk into life-changing transpersonal experiences in a safe space where you can connect with your own inner-healing intelligence.
See how everything around you is in a very real way interconnected by perceiving all-pervasive patterns of geometric order surrounding our lives.
Learn to properly draw with compass and straightedge even if you have never drawn before. Everyone can do it!
Enjoy a deeply rewarding sensation of satisfied completion with every drawing.
Use the traditional tools of the Tibetan Masters—chak-purs.
Interact with the archetypal forces operating just below the psyche's surface.
Harness the power of mandala to move beyond the thought stream of the mind.
Feel group connectedness when co-creating a large mandala.
Honour the impermanence of all things through a letting go / gratitude session.
Give yourself time, space and permission to set aside the outside world for one weekend and explore geometry in a way that can facilitate a reconnection with your essential centre.
This event will be co-hosted by Scott Onstott and Geoff Fitzpatrick. It will resume again in the post-pandemic world, with the exact dates to be announced.
About the Venue
The Transpersonal Institute at Dunderry Park hosts courses on Counseling, Dance Therapy, Holotropic breath work, Psychotherapy, Shamanism, Voice Work, Yoga, and more.

Consider visiting the Hill of Tara and Newgrange on your own, or with new friends you meet after at the workshop. These sites are close—only 20 and 35 minute drives from the venue, respectively.

The Hill of Tara is topped by the coronation stone, aka the "stone of destiny" where the High Kings of Ireland were crowned.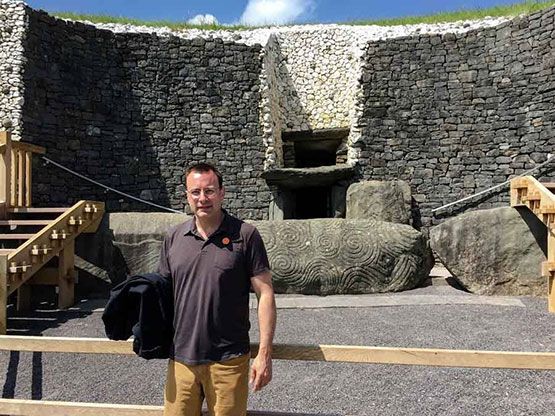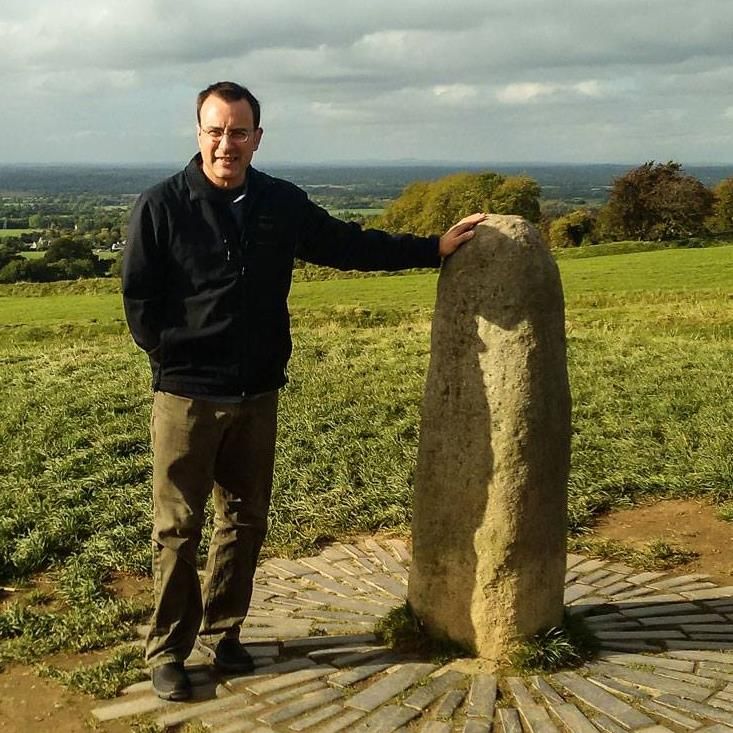 Newgrange, and its sister-site Knowth, contain Europe's largest and most important concentration of prehistoric megalithic art. You can go inside the long narrow passage of Newgrange in small groups and see a simulated winter solstice sunrise illuminate the interior, a memorable experience.
Accommodations
Comfortable shared accommodations are located in separate wings for men and women while private rooms have limited availability.
Meals
Delicious vegetarian food was served exclusively.
Created with