a new way to learn and interact
Quantification
m-Book©
The illustrations have a mysterious beauty that invites contemplation, philosophical inquiry and meditation; they will inspire you to perceive parallels between the universe outside of you and the universe within.
What's an m-Book?
Scott Onstott's exclusive multidimensional book — the m-Book
©
— supports you by including many ways to experience and discuss the author's content, all in one course. Each m-Book experience includes:
Audiobook in online and offline versions for when you want to listen.
Videobook of the author reading the book on screen for when you want to watch.
e-Book versions (PDF & EPUB) for when you want a digital reading experience.

Community access to discuss the content with those enrolled in this course, the author & our community.
67 streaming videos

Online & MP3 audiobooks

PDF and EPUB e-Books

Community discussions

3 year access to online features
What this m-Book is about
This awe-inspiring treasury features 66 full-color illustrations by the creator of the Secrets In Plain Sight video series. You will enjoy Onstott's discoveries connecting everything from the cell to the human body, ancient temples, sacred sites, modern architecture, the Nile, art, math, physics, sport, religion, non-duality, the Sun and the planets, the star Sirius and the distance to the center of our galaxy. A third of the illustrations feature the metrological wonders encoded in the Great Pyramid of Giza.
Insightful words compliment art
Onstott's technical mastery combined with his skill in pattern recognition comes across in the many educational and thought-provoking illustrations and infographics included here.

Anyone with an appreciation for imaginative visual storytelling will treasure this volume's illustrations and written descriptions.

The book is designed to be appreciated a page at a time, in no particular order.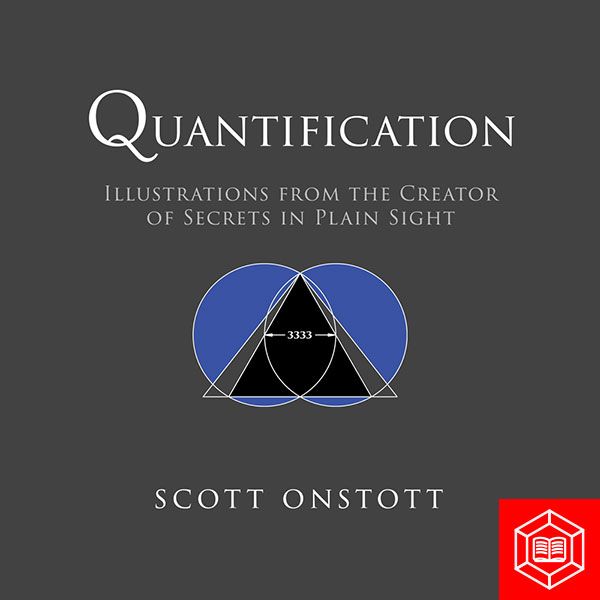 This book of illustrations documents my continuing efforts to understand the universe and our place in it and at the same time is an attempt to understand the self and the universe within. I experienced a creative outpouring in the first 3 months of 2014 and the overwhelming majority of these illustrations are from that period. However, I was also inspired to include a few illustrations I made from as far back as 3 years ago to round out the collection.

More than a third of the illustrations are of the Great Pyramid—its geometry and location are fascinating! I've made a number of unusual comparisons between ancient and modern structures, sacred sites, the Earth, Moon, Sun, the human body and much more besides.

Many of the illustrations reveal uncanny connections that will probably get you wondering and contemplating. I hope that some of these might catalyze you into doing your own research, asking philosophical questions, and examining your own experience. Never before has humanity had such opportunity at our fingertips as we now enjoy with the Internet. I designed this book so that illustrations logically flow in linear order, but feel free to jump around and examine any page that you happen to come to and see where it takes you. Many of my best discoveries have been made by following trails of synchronicity. —Scott Onstott
Read | Listen | Watch | Participate
Author: Scott Onstott

Level: Everyone

66 videos
Read, listen and/or watch in the course
This course includes 3 different modalities so you get to choose how you want to learn:
Watch the videos

Listen to the audiobook

Read the e-book

Mix & match in any combination
read the free introduction below
Sign up with a free account and you can read the introduction to get a better sense of what this e-book/audiobook/video course is about.
participate in our community
Use our community to communicate with the author and other interesting individuals.
Samples from the Videobook:

Join Our Community
Connecting with others who are excited about sacred geometry can be very engaging & personally rewarding.

This is one of the best features of Sacred Geometry Academy!

People love it
Like a mathematical Sherlock Holmes, Scott Onstott continues to unveil the Hidden Numeric Codes that construct our World.
—Mark Gray
Many of us have become intuitively awake to nature's Grand Pattern of order and proportion. Scott's great contribution reveals this pattern in an explicit and beautiful way. He singlehandedly has mined gold from behind the veil and his contribution to the renaissance of philosophical geometry is simply awe inspiring.
—Geoff Fitzpatrick
A very interesting collection of forms, shapes and numbers representing windows on the hitherto unknown but very intriguing intangible realms of our surrounding reality.
—Bert Janssen
Scott Onstott continues to impress and inspire. His insights are unique and profound, balanced by his humility and grace, and grounded in undeniable mathematical correspondences. Not only does he present what could easily be dense topics in an easy to understand manner, in doing so, he cuts to the core of his message. The 'hidden order of the universe' is a playful mystery that seemingly wants to be found, for, if it is hiding, it is doing so 'in plain sight'. Looking through the geometrical and mathematical lens Onstott applies to the world, a kaleidoscope of wonder opens before us. His use of example and straight-forward approach make the infinite seem within reach, yet he also frees the science from being dry or stuffy by presenting all of this with a level of beauty and artistry that is rarely attempted, let alone accomplished.
—Alan Abbadessa-Green
Meet the author
Scott Onstott
Scott Onstott has taught thousands of students in person and millions online in his career. Scott enjoys teaching all levels and all ages. He looks forward to sharing his love of sacred geometry with all participants for the purpose of personal development.
Guaranteed Security using one of the most advanced encrypted systems on the market.
The information in this page is being processed and encrypted securely using industry-leading encryption and fraud prevention tools.
Created with